Project Management

Because we understand the importance of budgets and timescales we use our own Infrastructure Development Lifecycle, to help guarantee project delivery, on time, every time.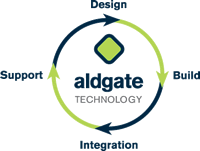 As a result of our extensive experience Aldgate Technology has developed a unique expertise in providing robust computer telephony systems and components, in addition to supplying and maintaining a complete range of CTI Server hardware.
We also specilaise in voice processing cards from Intel Dialogic, or alternatively can provide other branded or unbranded platforms to meet your budget and performance requirements. These Wintel based platforms are used by leading computer telephony software vendors, OEM's and end users with a mission critical requirement.
Network Installation

Aldgate Technology provide organizations with hassle free voice & data network installations. This includes structured cabling, internal and external fibre optical links, RF and voice cabling. In addition we configure and install routers, switches, firewalls, UPS's, telephone systems and many more system critical components.
We supply and install a variety of networking connectivity and infrastructure products from many leading vendors. These include the Cisco range of routers, the Netscreen Firewall range, HP and 3Com data switching, branded or bespoke servers and all the accessories required to get them up and running.
Providing future proof Lan's and Wan's Firewalling and Multi Site Connectivity are just some of the ways Aldgate Technology has helped existing clients to meet the challenges of modern systems integration.
At Aldgate Technology we undertake to design, commission, test and install all of these products for our customers. Aldgate Technology will always guarantee delivery within budget and ahead of schedule.